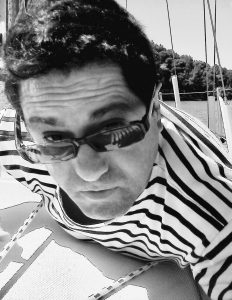 Production: So-Use
Each prototypist is presented through a common Q&A in which they individually explain their relationship to the product, the brand and the creation of a fruitful dialogue with the designer.
– Your background?
I graduated from a Paris leather good making school – École de sellerie-maroquinerie à l'Abbé Grégoire, in 1980 (time flies!).
I set up my own business and launched "le Grain de Selle" in 1982 (Yep!)
I became a Master Craftsman (Maître Artisan) in 2000.
I essentially do made-to-measure and special orders: unique products made in classic or precious skins. I am known as the "Sainte Rita" of the leather good craftsmen: I keep creating or restoring eccentric objects like a fitted trunk case for a Ferrari, a handrail cover in ostrich skin. I restore antique objects, etc…
– How did the Lazarus project and universe inspire you?
Respect of the product and of the people.
Models designed with a touch of craziness!!!
– How about the concept of the model?
The concept of the model is totally eccentric. It's been a headache! But I love it!!
– How did you work on the model you developed?
I worked on the SO-USE bag with my head in the clouds!!!
– What is your conception of luxury?
For me, the real luxury is doing nothing.