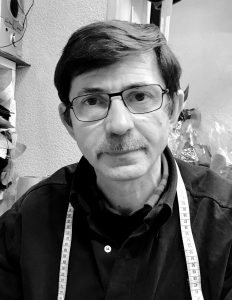 Production: Mouffle Björk / Chapka Strogoff / Bonnet Starsky
Each prototypist is presented through a common Q&A in which they individually explain their relationship to the product, the brand and the creation of a fruitful dialogue with the designer.
– Your background?
I started my apprenticeship in Serbia in 1976 as a tailor for men. I was 15. In 1980, I did my military service in the confection and garment repair section. Then I worked in textile factory as a model technician for two years. In 1983 I move to France and started producing leather garments, sheepskin shearling and small leather goods.
In 1985, I had a workshop in Pantin and was employed by a small, 10-person company. Then, in 1998, I opened my own business.
From 1998 to 2003 I worked as a subcontractor for Dior, Galliano, Kenzo, Thierry Mugler, Jean Claude Jitrois, Paule Ka, Apostrophe…
In 2003, I set up my own boutique boulevard Voltaire where I still work and make leather and skin garments.
– How did the Lazarus project and universe inspire you?
I worked very closely with Vincent to meet all his expectations in an atmosphere of mutual respect and with a same shared passion.
– What is your conception of luxury?
Luxury for me lays in the details of a model, a top-grade skin and perfect finishes.